Summary:
This product is suitable for all kinds of automatic control device, power control device and all kinds of automatic mechanical equipment voltage, current indication.
This product uses microprocessor (CPU) as the core of the instrument,It is a kind of intelligent instrument, very convenient to use, and is the replacement of pointer meter and analog digital display meter.
This product conforms to the standard of Q/SQG01-1999 intelligent digital display regulator.
Features:
Good visibility (character height NGG-3000:13mm (PV); NGD-3000: 22mm(PV);NGE-3000:20mm (PV); NGF-3000:20mm (PV)。Accidence conforms to IEC standards.

Single chip microcomputer is used as the core body, and the performance of the whole machine is good.

SMT process is adopted.



Spectrum:

①Shell color

②Panel size

③Additional features

④Input type

⑤-⑥The input signal

⑦-⑧Display range

⑨unit

G:GERY

B:BLACK

D:96×96

0:No

6: DC voltage

0-20mV

1、-1999-9999(communication only 0-9999)Any choice within the range, or set by the user;

2、Arbitrary setting of decimal point position

3、This section is ignored if the input is the same as the display

mV

V

mA

A

Pa

kPa

MPa

R. P.M

H2O

Hg

0-75mV




H:96×48

1:Upper limit alarm

0-200mV

0-5V

Note: 1. Panel size L (72*36) only limit alarm;

2.Panel size M (48×24) No AC voltage and current input, no alarm output

F:48×96

2: lower limit alarm

1-5V

0-10V

E:72×72

3:Upper and lower limit alarm

7: DC current

0-10mA

0-20mA

4-20mA

L:72×36




8:AC voltage

0-20V




0-500V

G:48×48

9:AC current

0-5A






M:48×24




Can be customized

Can be customized
Control panel: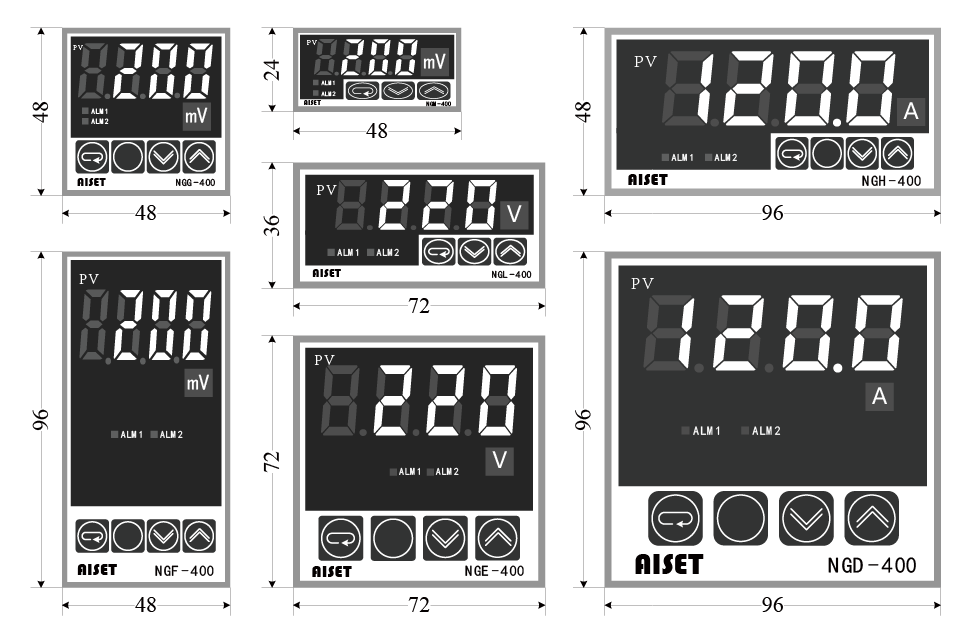 Terminal: