Summary:
Jc-l series electronic counter is a new generation of preset counter launched by our company. Jc-l series electronic counter adopts excellent performance of the new single-chip microcomputer as the main control part, with high precision, wide counting range, digital display, touch keyboard operation, power failure data storage permanent, strong anti-interference performance, beautiful appearance and other advantages.
Characteristics :
The device includes 32 functions including single delay, double delay, tired time, frequency, speed, four-digit count and eight-digit count, and has multiple relay working modes, which fully meets the needs of the control site.

It can be connected to photocell, proximity switch, switch contact, encoder, etc.

The relay action value, magnification A and magnification B can be set, and the set value, elapsed time value and count value will not be lost in case of power failure.

Specifications:
Model

Count range

Function

Output voltage (for sensor)

Overall dimensions

mm(H×W×L)

The size of hole mm(H×W)

Insert depth

JC48L

0~9999

(0~99H59M)

Including single delay, double delay, tired time, frequency, speed,Four - digit counting, eight - digit counting and other 32 functions.Can be connected to photoelectric tube, proximity switch, switch contact, encoder, etc

12VDC/30mA

48×48×64

48×48

78

JC72L

72×72×75

68×68

65

Function of number

Functional specifications

Scope of work

Relay operation mode

Function of number

Functional specifications

Scope of work

Relay operation mode

01

Single delay (positive)

0.01S~99.99S

1-6

17

Double delay (positive)

1M~9999M

1、2

02

Single delay (side)

0.01S~99.99S

1-6

18

Double delay (side)

1M~9999M

1、2

03

Single delay (positive)

1M~9999M

1-6

19

Tired time (immediate reset)

0-99H59M59.99S

1-6

04

Single delay (side)

1M~9999M

1-6

20

Tired time (8 seconds reset)

0-99H59M59.99S

1-6

05

Single delay (positive)

1S~9999S

1-6

21

Tired time (immediate reset)

0-9999H59M59S

1-6

06

Single delay (side)

1S~9999S

1-6

22

Tired time (8 seconds reset)

0-9999H59M59S

1-6

07

Single delay (positive)

1S~99M59S

1-6

23

Tired time (immediate reset)

0-9999D23H59M

1-6

08

Single delay (side)

1S~99M59S

1-6

24

Tired time (8 seconds reset)

0-9999D23H59M

1-6

09

Single delay (positive)

1M~99H59M

1-6

25

frequency

2-9999Hz

1、3

10

Single delay (side)

1M~99H59M

1-6

26

frequency

2.0-999.9Hz

1、3

11

Double delay (positive)

1M~99H59M

1、2

27

speed

60-9999rpm

1、3

12

Double delay (side)

1M~99H59M

1、2

28

Band multiplier frequency

0-9999(ratio a、b)

1、3

13

Double delay (positive)

1S~99M59S

1、2

29

Four count

0-9999

1、3、5

14

Double delay (side)

1S~99M59S

1、2

30

Four digit count

0-9999(ratio a、b)

1、3、5

15

Double delay (positive)

1S~9999S

1、2

31

Eight count

0-99999999

1、3、5

16

Double delay (side)

1S~9999S

1、2

32

Eight digit multiplier count

0-99999999(ratio a、b)

1、3、5
Control panel: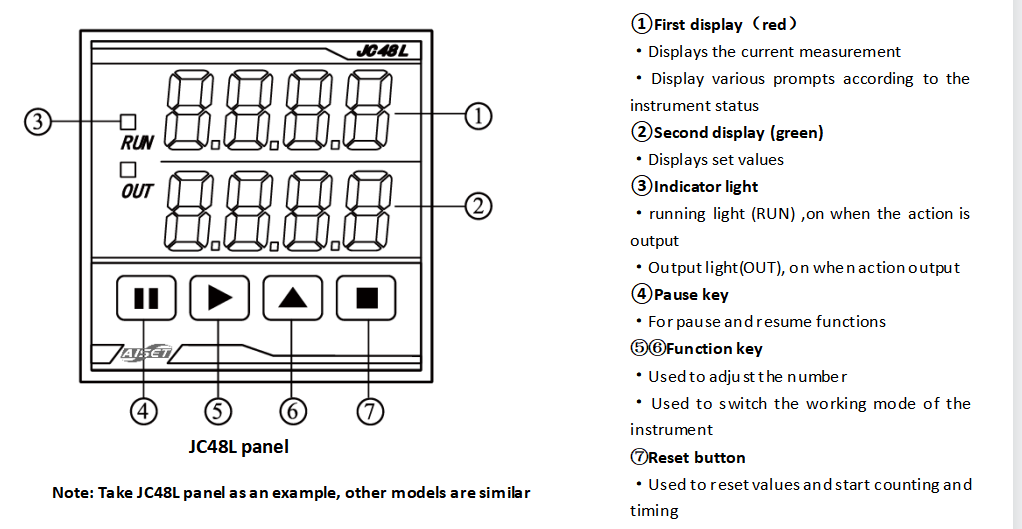 Terminal: